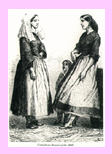 Welcome to this Bal Maidens and
Mining Women
website, exploring the many different roles which women and girls have undertaken at
mines around the world
.
The emphasis is on those who worked at the mines (known as bal maidens), clay & slate works, and related industries (such as the explosives industry, smelters etc) in Cornwall and West Devon and includes a searchable database of some 29,731 named individuals.
There are pages about mining women around the world, notably of pit brow lasses of the north of England, and coal dressers on the French and Belgian coal fields. There are also Name Indexes (which include both males and females) for the 1842 Royal Commission Reports into the Employment of Children and Young People at the Mines for Cumberland, Durham, Northumberland, Cornwall and West Devon, and the Forest of Dean. Also for information on the women and girls who worked at the paper mills in Devon and Cornwall please go to our publications list.
Please also check the page Books & Articles for further reading including a number of books by Lynne Mayers.
Second edition of the book which won the

2005 Holyer an Gof Trophy

Best Cornish Publication 2004

Winner

2015 Holyer an Gof Award

Best Cornish Booklet published 2014
All images on this site can be viewed in more detail by clicking on the image. Use the browser BACK button to return. Some image files, name indexes etc are rather large and will take a few seconds to load, even at broadband speeds. Please be patient.